2022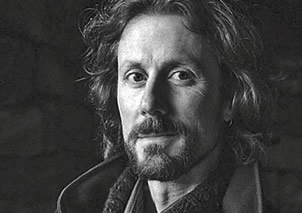 Paul Kingsnorth
Paul (b.1972) is an English writer who lives in the west of Ireland. His nonfiction works address macro-themes (environmentalism, globalisation, and the challenges posed by civilisation-level trends) and his fiction tends to be mythological and multilayered. He edited Cherwell at Oxford University (where he studied modern history), and subsequently sensibility sits comfortably with theirs and his literary achievement could well go on to be their equal. He is that good.
Prof Gerard Casey
Gerard is a Professor emeritus in the School of Philosophy at University College Dublin; Associated Scholar at the Ludwig von Mises Institute (Alabama, USA); and Fellow of Ludwig von Mises Centre, UK. He taught at the University of Notre Dame (1980-1) and at the School of Philosophy in The Catholic University of America, Washington, DC (1983-6). Gerrard is the author of Born Alive; Murray Rothbard; Libertarian Anarchy; Freedom's Progress?; ZAP: Free Speech in the light of the Zero Aggression Principle; After #MeToo; and Hidden Agender. He has been a member of the Royal Institute of Philosophy; the Association for Political Theory; the American Philosophical Association; The Independent Institute; and The Aristotelian Society.
Martin D Henry
Martin is a priest of the diocese of Down and Connor. He was educated at The Queen's University, Belfast (Romance Languages and Literatures), The Catholic University of Leuven (Medieval Studies), Maynooth College (Theology), and Oxford University (DPhil in Theology). From 1982 to 2013 he taught Dogmatic Theology in St Patrick's College, Maynooth. He has published several articles, as well as the following books: Franz Overbeck: Theologian? Religion and History in the Thought of Franz Overbeck (Peter Lang, Frankfurt a/M: 1995); On Not Understanding God (Columba, Dublin, 1997); an annotated translation of one of the classic works of 19th-century German theology, Franz Overbeck's How Christian is our Present-Day Theology? (2005); Tangents: Essays and Reflections (Veritas, Dublin, 2008); and Seid also wachsam. Predigten zwischen Matthäus und Overbeck (Mainz Verlag, Aachen, 2013.
Dr Máirín MacCarron
Máirín is Lecturer in Digital Humanities at University College Cork. A graduate of UCC, she held the Dr Garret FitzGerald Postdoctoral Fellowship in the Humanities at NUI Galway from 2012-15, following which she worked in the Department of History at the University of Sheffield prior to returning to Cork in 2019. She is a Fellow of the Royal Historical Society. Her research interests include time, chronology and computus in the middle ages; gender and women (especially women in religious life and medieval queens); the writing of history; and digital approaches to studying the past, especially network science and social network analysis. Máirín won the Irish Historical Research Prize 2011 for her book Bede and Time: computus, theology and history in the early medieval world (published by Routledge: London & New York, 2020).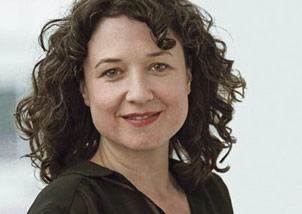 Larissa Nolan
Larissa is Features Editor of the Irish Mirror. An award-winning journalist and commentator, her focus is on social and cultural politics. She has worked on national newspapers in Ireland for 25 years, starting as a trainee reporter in a newsroom while still in her teens. From Blessington, Co Wicklow, she is now based in Dublin's inner city, where she lives with her son.
Michael Hardiman
Michael holds a PhD in philosophy from NUIG. A native of Athlone, he was born into a business family where he learned, long before any formal education in the field of psychology, the complex and variegated nature of human beings! He attended University in Galway, and postgraduate training in Counselling Psychology at University College Cork. He has written several books in the field of psychology/personal development. An elected Fellow of the Irish Institute of Training and Development, he served on the national executive of the Irish Association of Addiction Counselling where he specialised in identifying and treating the long-term effects of early childhood trauma. Michael lives in Galway where works as a psychologist and educator with a private counselling practice. He also presents training seminars and workshops nationwide to family centres and to adult education services. His book The Path to Mass Evil: Hannah Arendt and Totalitarianism Today will be launched by Routledge, New York, in July this year.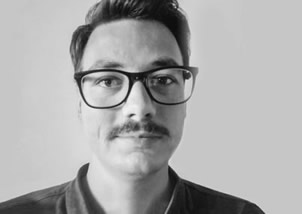 Charles Piecyk
Born in France, Charles studied sociology in Lyon. He then moved to Ireland and completed a Taught Master's degree in philosophy at Maynooth University (2018-9), under the supervision of Prof. Philipp Rosemann; his thesis was on Michel Foucault's analysis of the modern conception of man in his book The Order of Things: An Archaeology of the Human Sciences (1966). Currently Charles is under taking a PhD at Maynooth, working on a related topic; from an historical perspective he is investigating discourses promoting the overcoming of human nature and limits (such as in the transhumanist movement today) in the light of Foucault's and Nietzsche's insights.
Bernadette Lowry
Bernadette is a freelance curator, writer, and teacher. She holds MA in English and Diploma in the History of European Painting from UCD. From 2001–4, she was curator, catalogue writer, and picture researcher at the Oriel Gallery where she edited the biography of Percy French, Lead Kindly Light. Her groundbreaking new book, Sounds of Manymirth on The Night's Ear Ringing. Percy French: His Jarvey Years and Joyce's Haunted Ink bottle, has just been published (Carmen Eblana AE Productions.) It shows how Percy French is embedded Finnegan's Wake and indeed the character of Finnegan might well be based on Percy French.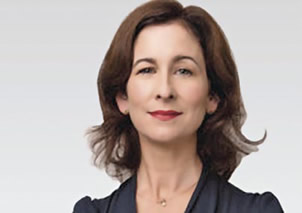 Sarah Carey
Sarah writes for the Irish Independent and appears regularly on RTÉ television and radio programmes. From 2011 to 2017 she presented Talking Point on Newstalk radio. She is a former columnist for The Sunday Times, The Herald, and The Irish Times. She holds a History degree from Trinity College Dublin, and a postgraduate diploma in Business Studies from the Michael Smurfit Graduate Business School, UCD. She has worked as a communications consultant for many companies, particularly in public affairs and infrastructure. Sarah was appointed by the Department of the Environment to the Appeals Board of the Register of Architects and Chartered Surveyors and served two terms from 2013 to 2019.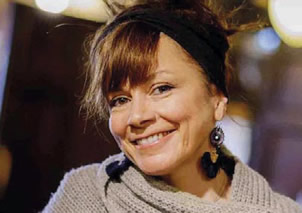 Cathy Jordan
Roscommon born Cathy has been a professional singer with traditional group Dervish for nearly 30 years. She is a self-taught guitar, bouzouki, bodhrán, and bones player. She has led Dervish as front woman through thousands of concerts in hundreds of cities in nearly 40 countries and has 16 albums under her belt. Among the most notable performances were The Great Wall of China and the biggest rock music festival in the world – Rock in Rio with over 250,000 people. As a songwriter, she has written songs with internationally renowned Brendan Graham (best known for the lyrics of You Raise Me Up). In 2014, she took up the role of presenter of Fleadh TV with TG4. Cathy has been an ambassador for Irish culture and music for over a quarter of a century, and has a deep understanding of traditional Irish songs and singing and has collected hundreds of songs which might otherwise have been forgotten. Over the years Cathy has received many awards for her contribution to traditional Irish music including: BBC Lifetime Achievement Award (2019); Sligo Cultural Ambassador (2018); the Annie McNulty Award (2014); and The Freedom of The City of Sligo (2010).
John F Deane
John read English and French at University College Dublin. He is the founder of Poetry Ireland, the National Poetry Society, and of its journal The Poetry Ireland Review. He has published several collections of poetry and some fiction. He has been a winner of the O'Shaughnessy Award for Irish Poetry; the Marten Toonder Award for Literature; and poetry prizes from Italy and Romania. John was elected Secretary-General of the European Academy of Poetry in 1996. He has been short listed for both the T. S. Eliot Prize and the Irish Times Poetry Now Award, and won residencies in Bavaria, Monaco, and Paris. In 2007 the French Government awarded him the honour of Chevalier, Ordre des Arts et des Lettres. He is a member of Aosdána. Naming of the Bones, his latest collection, is published by Carcanet Press, 2021
Percy French
French was born in Cloonyquin, County Roscommon, the son of an Anglo-Irish landlord. While still a student at Trinity College Dublin, in 1887, he wrote the hugely popular Abdul Abulbul Amir; he sold its rights to a music publisher for £5 (equivalent to almost £570 today) but he missed out on royalties. In 1881, on graduating as a civil engineer he became 'Inspector of Drains' for Co. Cavan's Board of Works. A prolific painter of water olour landscapes, he considered art to be his vocation. He first became celebrated for his songs, including Phil the Fluther's Ball, Slattery's Mounted Foot, and lyrics of The Mountains of Mourne. In Are Ye Right There Michael? he ridiculed the Co. Clare railways who sued for libel. On arriving late for the hearing and questioned by the judge as to why, French explained, 'Your honour, I travelled by the West Clare Railway', resulted in the case being dismissed. On becoming a well-known entertainer his paintings were sought after–and they remain so today, attracting high prices at leading auction houses. In 1920, in Glasgow, Percy French took ill while performing and died some days later. He was 65.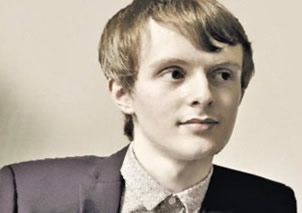 Frasier Hickland
Frasier, a recent graduate of the Royal Irish Academy of Music, studying under Professor Anthony Byrne, is about to undertake further studies at the Royal College of Music, London, with Simon Lepper. He has been featured on BBC Radio Ulster to commemorate the Jane Austen Bicentenary and on BBC Radio 3 In Tune. He has performed in some of the most prestigious venues in Ireland including the National Concert Hall, Dublin; the Ulster Hall, Belfast; the National Gallery of Ireland, Dublin; and with the Ulster Youth Orchestra's 2019 summer season. He was selected to work in a residency with the distinguished composer Sally Beamish OBE and gave the Irish premiere of her Wild Swans. This year he won the John Benson Memorial Cup for Bach in the Feis Ceoil. He was the Peter Rankin Piano Intern for the Northern Ireland Opera Festival of Voice in 2018 and 2019 has since worked on various projects with the company, including a performance at Hillsborough Castle for HRH The Prince of Wales. His répétiteur roles have included Offenbach's Daphnis et Chloé and L'île de Tulipatan (NI Opera) and Seán Doherty's opera Waking Beauty (Linen Biennale, Northern Ireland 2018).
Eileen Coyle
Eileen is a native of Cavan now based in Dublin. She began her choral education over ten years ago as a choral scholar with Dr Ite O'Donovan and the Lassus Scholars. She has been studying classical singing with Dr Imelda Drumm for the past seven years and has completed the Diploma in Teaching and Performance at the Royal Irish Academy of Music. She is a Lay Vicar Choral at Christ Church Cathedral, Dublin, and also sings with many professional ensembles in Ireland. Eileen has performed in the Dublin Fringe Festival; New Music Dublin Festival; Cambridge Early Music Week; Speaking of Music; and the 11:11 Concert Series at The Royal Irish Academy of Music, Dublin. She has sung as a soloist with the RTÉ Concert Orchestra; the RIAM Baroque Ensemble; The Orlando Chamber Orchestra; Longford County Choir; West Wicklow Voices; Setanta Choir; Christ Church Baroque Ensemble; and The Irish Memory Orchestra. Choral tours have taken her to America and throughout Europe. As a soloist she has sung at the National Concert Hall; St Patrick's Cathedral, Dublin; National Gallery of Ireland; Cork Opera House; Kilkenny Theatre Royal; the American Embassy; Áras an Uachtaráin; and regularly at Christ Church Cathedral.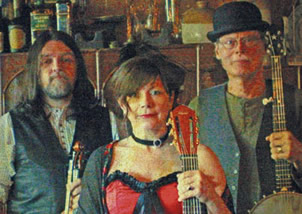 The Unwanted
Cathy Jordan, Rick Epping, and Seamie O'Dowd, The Unwanted, draw on a wide transatlantic repertoire. Roscommon born Cathy (lead singer, tenor guitar, bodhrán) has a soaring voice that moves effortlessly between traditional Appalachian ballads and contemporary folksong. She is well known as the lead singer of Dervish. Séamus (guitar, fiddle, harmonica) grew up deep in the tradition of Sligo fiddling, but expanded his repertoire early to include the New World traditions and is today as accomplished playing blues slide guitar as he is with jigs and reels. Well known both for his years with Dervish and for his performing with the best of Irish traditional musicians including piper Liam O'Flynn and accordionist Máirtín O'Connor. Rick (harmonica, concertina, banjo, jaw harp), a native of California, has been moving back and forth between Ireland and the United States for over 35 years and has been playing the music of both lands since childhood.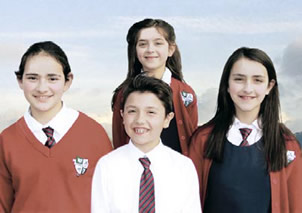 Col Ceathair
Maria Henderson is 12 years old and sings, plays piano, harp, flute, and the bodhrán–and she has just acquired a trombone. She has won first prizes at Feis Maitiu and Kilcoole Music Festival. As a member of the Piccolo Lasso choir, she has performed at the National Concert Hall, Westminster Cathedral, and San Gaetano in Florence. Cecilia Henderson is 10 years old and is a singer, pianist, and sean-nós dancer. She has just completed Grade VIII Music Theatre and Popular Singing exam and loves to sing in many styles including Irish airs. She has won numerous first prizes for singing and poetry recitation at Kilcoole Music Festival and Feis Maitiu. She too is a member of Piccolo Lasso choir. Isabella Henderson is 6 years old and loves to sing and play piano. She enjoys performing with her older sisters and her favourite cousin, Kevin. Her repertoire includes Irish songs/ballads and songs from musicals. Her favourite singer is Elvis. Kevin Finnerty Jnr is 10 years old and the winner of this year's Feis Ceoil Gold Medal for singing. He has won numerous first prizes for singing and poetry recitation at Kilcoole Music Festival and Feis Maitiu. A member of the Piccolo Lasso choir, he has performed at the National Concert Hall. He plays guitar, harp, and piano.